You are now in the home of Alain Delon, one of the most talented actor in France, and one of the most handsome men in show business.

When speaking of French actors,many people will think of a jubilant Maurice Chevalier, a pouting Jean Gabin,a haunting Jean Marais, a rebellious Jean Paul Belmondo or even a wholesome Gerard Depardieu.But no one can
deny that Alain Delon was
absolutely one of the most beautiful actors that has ever graced the silver screen and he was also one of the most talented.
Alain Delon and Catherine Deneuve
Alain Delon and Monica Vitti in L'Eclipse.
Alain can say more with his
eyes in minutes than most
actors can with two hours
of dialogues.
Alain Delon and Catherine Deneuve in SOK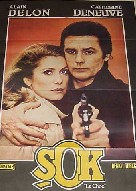 In his career as an actor, he has worked with some of the
best European directors, such as: Rene Clement, Lucho
Visconti, Michelangelo Antonioni, Louis Malle, Jean Luc
Godard, Jean-Pierre Melville.
The "sultry" Delon trademark.
Alain Delon and Jean Yanne in "Armaguedon"
He has given brilliant performances that were timeless and thought provoking; though his acting abilities have often been dismissed by critics who can't seem to see past his extraordinary visage nor comprehend his wordless performances. His contribution to the French cinema should not be ignored.
Alain had his first big success in the Tom Ripley role in "Plein Soleil". This role was later re-created by Matt Damon.During this time, he met and fell in love with a famous Austrian actress: Romy Schneider.
Luchino Visconti casted him as Rocco in "Rocco e i souil fratelli"in 1960. The film went on to win the Special Jury Prize at Cannes that year.
Delon and Marie Laforet in Plein Soleil.
The two biggest French stars and rivals at the time,Alain Delon and Jean Paul Belmondo, teamed up again in "Borsalino", a movie about Marseille's gangsters in the 30's.They have acted together in "Sois belle et tais-toi" in 1958 when they were both still unknown.The film was a major success commercially.

In 1976, Alain produced and starred in the film" Mr. Klein,directed by Joseph Losey. The film won the Cesar award that year.He also tried his hand at screen writing and wrote " Comme Un Boomerang".
In 1981, he directed his first film "Pour La Peau D'un Flic".
In 1984,Bernard Blier directed him in "Notre Histoire" and he finally won the prestigious Cesar award for his performance.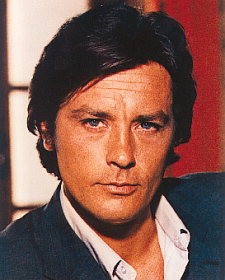 In 1990, he starred in "La Nouvelle Vague", his first collaboration with director Jean Luc Godard.
In 1997, Germany awarded him the prestigious Golden Camera award for his lifetime achievement in cinema.
In 1998, he reunited with Jean Paul Belmondo for the last time in "Une Chance Sur Deux". Afterwards, he proclaimed that he would be retiring from the cinema.
Alain Delon with Dalida .
The huge hit "Paroles, Paroles".
Please click on the unicorn and use the password: alain
to view the rest of Alain Delon's gallery.

Some interesting facts about Alain Delon.
* Not a well known fact, but Alain Delon and Jean Paul Belmondo has worked together 6 times.
* His character's names usually began with a J, like Jean or Julien.
* He often portrayed characters whose professions are either thief or
hired killer and their final outcomes are usually deaths.
* The film "Lawrence of Arabia" was actually scheduled to shoot
with Alain Delon as Lawrence, but due to scheduling problems, he
was replaced by Peter O'Toole.It made O'Toole a star, but we can't
help wondering what the film would have done to Alain's acting career.
* Alain was Anne Rice's original choice for the role of Louis when her
book "Interview With The Vampire" was first optioned for a movie
back in the mid 70's.He would have starred opposite Rutger Hauer ,
Anne's original choice for Lestat.Unfortunately, the film did not get
made until the 90's and the role of Louis went to Brad Pitt.