I am originally from Vietnam but have relocated to the US since 1975. I work in the food service business but have been taking classes in graphic designs lately, maybe just for fun; but then it could be for a change of profession also.
I have not been back home since I left. Sometimes I thought I might enjoy going back, and then there are times that I am not sure how it would affect me.Most of the people that I used to know would probably not recognize me; some might not even remember me. But maybe one day, who'll know!!!!!!!
I have lived in most major cities in the United States and I still have to say that New York is my favorite, though I can do without the winter.
San Francisco is another city that I really like.The clean, crisp air ; the shiny Golden Gate Bridge at sunset ; those old,quaint streetcars combined gives the city a unique identity that no other city can compare itself to.
I first started out in Washington D.C when I first came to this country and every so often, I still come back to D.C for periods of time.Like the prodigal son coming home.Except I would never consider it home and I am hardly a prodigal son. :) It has its own charms, I guess.
The most beautiful couple

on the silver screen.

What I did for love....

This is my favorite movie.

It's about a poor,young man falling in love with a beautiful,

wealthy debutante while already in a relationship with a down

to earth girl who worked with him in the same factory.

Love, greed, loyalty,good, evil are all presented here in its most

candid portrayal.

Love supposedly will bring us all joy and happiness; but no one suspects that it can also bring so much suffering and misery.
I come from a fairly large family:5 sisters and a brother.Only by a stroke of luck that I did not end up being the shortest in our family.My second sister got me beat by 2 inches.We have our differences like any other family, but overall, my siblings are wonderful and I could not ask for a better family.
I have been interested in computers for a long time.But mostly just to play around online.This is the first time that I took it seriously.I still do not know
anything about programming the piece of crap but I am taking a course in graphic designing right now and hopefully it will help me bring out the artist in me.
I am still amazed that this site comes out the way that it does.And who says there is no miracle?:)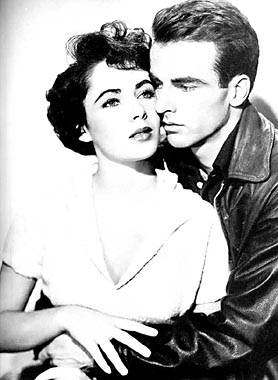 Monty and Elizabeth Taylor, the beautiful,rich girl that he fell for in A Place In The Sun.